Remote Film & TV Shoots in India
Work faster, cleaner, cheaper, safer... and smarter....
We have developed scalable affordable systems for remote film and TV shoots in India. We can put you 'virtually' on set or on location almost anywhere in India from the comfort of your office anywhere in the World. The one positive thing the Covid pandemic taught us is that it is not always practical, desirable, affordable, or necessary to send a crew halfway around the globe for a film shoot in India. Our versatile remote systems can also be used for virtual recces and location scouts during pre-production.
Faster: Avoid lengthy embassy permission and visa processes.
Cleaner: Avoid unnecessary international crew flights and damage to the environment.
Cheaper: Avoid international travel expenses and crew travel day fees.
Safer: Avoid sending crew to work in unfamiliar environments and climates with bugs and bacteria their bodies aren't ready for.
Here are the answers to some FAQs...
What do your remote shoots in India cost?
We have designed remote shoot systems that use everyday technology and software that almost everyone has on their laptops. Unless you require something out of the ordinary our in-house remote systems are provided completely free of cost to shoots using our Fixer and Production Services anywhere in India. The savings our systems provide are huge! You can delete many line items from your budget: International flights, airport transfers, crew travel days, per-diems, and hotels, to name a few.
Which locations are possible for remote shoots in India?

The systems can be used with any professional film and TV camera available on the market today. We can provide a live remote shoot experience anywhere in India with a 4G mobile network. We have connections to all three major networks which cover 97.5% of the country.
How do we direct a remote shoot in India?
We have designed our systems to give you complete creative control over the shoot without the need to travel to India. We put you in the driving seat. We provide a video feed directly from the camera on location so that you can see what the camera sees. We call this the 'Virtual Director's Monitor™'. Then we provide a second feed which puts you virtually on set. This two-way feed shows your face in India and allows for communication between any cast or crew members. We call this the 'Virtual Director's Chair™'. This can be used in many ways but often the VDC is mounted directly under the lens of the main camera allowing you to direct actors and presenters as if you were sitting on set. We also use the VDC for production communication, and sometimes as a CCTV camera, to give you an overview of the activity on the shoot while we set up.
Can we use your systems for Live broadcasts?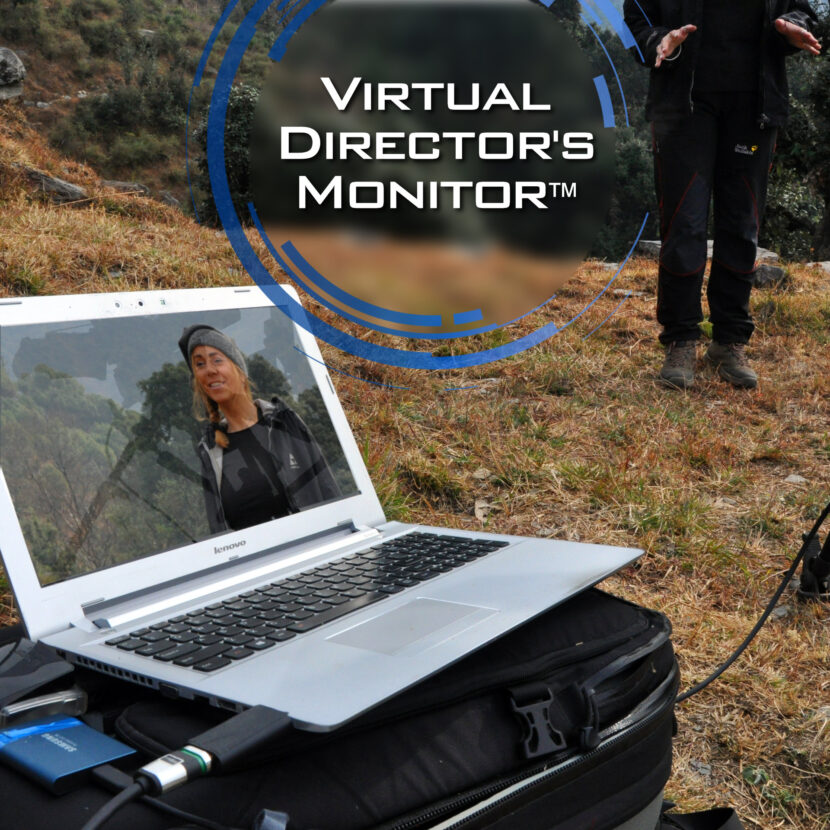 Yes, our system is tried and tested on live broadcasts. We obviously cannot send broadcast quality Full HD or 4K pictures via India's 4G networks but these days that isn't really necessary. Most networks are used to broadcasting live pictures from Zoom and Skype which our system is more than capable of. We recently broadcast live to Japan from three locations, over an hour-long transmission, along with Italy, Spain, France and Tanzania. Our system in India was the only one to work without any problems.
"Thank you so much, it was great! India went on the best because you guys prepared and challenged for us. Other countries was totally mess. Thank you very much!! You are the best."  Momo Nishyama – Producer, TV Tokyo, Japan.
What happens if we lose the connection to India?
If we lose our connection with you the shoot will continue under the supervision of our Head of Production who has more than 30 years' experience of international film & TV production as a Producer, Director, and Editor. When we are back online, we can play you selected takes over the Virtual Director's Monitor so that you can see what you missed and direct re-takes if necessary.
This process also works for remote locations where we know in advance that live remote shooting is not possible. When we reach connectivity again we can upload compressed dailies, with a small file size, to a place of your choice and we can also use the Virtual Director's Monitor to watch through the footage together and discuss the results.